Nicole gosta de calcinhas rosas…olha a Nicole pagando calcinha!


 

 Ok, pra ser bem sincero eu não sei se foi a Nicole Scherzinger que resolveu exibir sua perseguida pussycat doll por aí ou os paparazzi é que estão cada vez mais carniceiros, a ponto de se arrastar mais uma vez pelos carros da celebridade na esperança de tirar fotos delas sem calcinha.

 Só sei que a Nicole, líder (ou ex-líder) das Pussycat Dolls, foi fotografada por uma dúzia deles descendo de seu carro. O melhor que ela, simpática como sempre, era só sorrisos. Já os abutres estavam mais interessados pelo o que ela tem no meio das pernas. Qual não foi a surpresa deles ao saber que ela estava usando calcinha?
Ubalda, All Naked and Warm (1972)
http://rarelust.com/ubalda-all-naked-and-warm-1972/
Directed by:  Mariano Laurenti
Stars: Edwige Fenech, Pippo Franco and Karin Schubert
Language:  Italian | Subtitles: English, Romanian
Country:  Italy |  IMDB Info
Also known as:  Quel gran pezzo della Ubalda tutta nuda e tutta calda
Description:  During the Middle Ages, a clumsy knight returns home where his wife awaits him. Sensuous and beautiful, she has attracted several male admirers during his absence, but her chastity belt has maintained her faithfulness. Now is her chance to wrest the key from him and enjoy herself. The knight's portly friend has a similar problem with his equally gorgeous wife. And to top it off, both men have designs on the other's wife — leading them to devise painful methods to discourage the other from trespassing.
1.22gb | 89mins | 672x288 | avi
http://lumfile.com/l4lr3g0m4yf8/Ubal.nak.part1.rar.html 
http://lumfile.com/ffejsppwcrbl/Ubal.nak.part2.rar.html
L' Insegnante Va In Collegio (1978)
Download Via Torrent
Uma delicia de Comedia
L' Insegnante Va In Collegio (1978)
The Teacher Goes to College (1978)
DVDrip | MPEG-4 Visual | AVI | 560x304 | Xvid @ 995 Kbps | MP3 @ 123 kbps VBR | 01:26:30 | 700 Mb
Languages Available: Italian | Subtitle: No
Genre: Erotic Comedy
Per sfuggire ai sequestri di persona un ricco industriale del Nord, il commendator Riccardo Pozzoni, si trasferisce con la famiglia a Martina Franca, dove, pur vivendo travestito da barbone, continua a frequentare l'amante e tenta, al tempo stesso, di sedurre la bella insegnante d'inglese di suo figlio Carlo.
Il ragazzo, che è davvero innamorato di lei, gli verrà però preferito. Infine il commendatore non solo perderà la moglie, fuggita col segretario, e l'amante, che si sceglierà un compagno di classe di Carlo, ma verrà sequestrato malgrado tutte le sue precauzioni.


REGIA: Michele Massimo Tarantini
SCENEGGIATURA: Michele Massimo Tarantini, Francesco Milizia, Marino Onorati, Jean Louis
ATTORI: Clara Colosimo, Ria De Simone, Edwige Fenech, Lino Banfi, Gianfranco Barra, Marco Gelardini, Renzo Montagnani, Lucio Montanaro, Carlo Sposìto, Jacques Stany, Gisella Sofio, Alvaro Vitali
Ruoli ed Interpreti

FOTOGRAFIA: Giancarlo Ferrando
MONTAGGIO: Alberto Moriani
MUSICHE: Franco Campanino
PRODUZIONE: DEVON MEDUSA DISTR.
DISTRIBUZIONE: MEDUSA - VIDEOGRAM
PAESE: Italia 1978
GENERE: Erotico
DURATA: 90 Min
Strip Nude for Your Killer aka Nude per l'assassino [Blu-ray]
(Andrea Bianchi, 1975)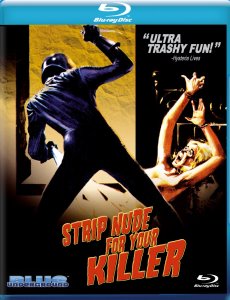 Production:
Theatrical: Fral Spa
Video: Blue Underground
Disc:
Region: FREE! (as verified by the Momitsu region FREE Blu-ray player)
Runtime: 1:37:58.080
Disc Size: 22,197,010,443 bytes
Feature Size: 19,824,414,720 bytes
Video Bitrate: 21.99 Mbps
Chapters: 24
Case: Standard Blu-ray case
Release date: March 26th, 2012
Video:
Aspect ratio: 2.35:1
Resolution: 1080p / 23.976 fps
Video codec: MPEG-4 AVC Video
Audio:
DTS-HD Master Audio English 1564 kbps 2.0 / 48 kHz / 1564 kbps / 24-bit (DTS Core: 2.0 / 48 kHz / 1509 kbps / 24-bit)
DTS-HD Master Audio Italian 1563 kbps 2.0 / 48 kHz / 1563 kbps / 24-bit (DTS Core: 2.0 / 48 kHz / 1509 kbps / 24-bit)
Subtitles:
English (SDH), English (for Italian DUB), French, Spanish, none
Extras:
• Strip Nude for Your Giallo (11:44 in 480i)
• International Trailer (3:41 in 1080P)
• Italian Trailer (3:41 in 1080P)
• Poster and Stills Gallery
Bitrate: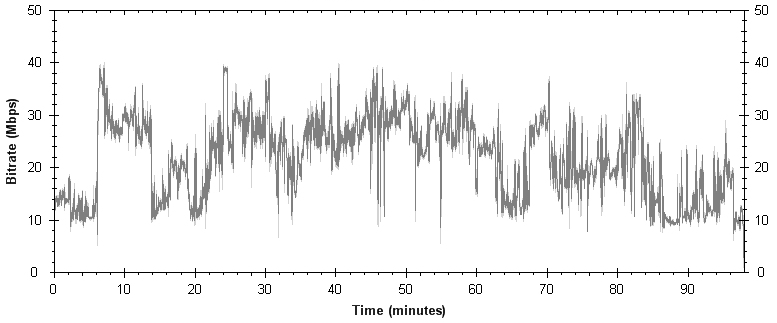 Description: The stunning Edwige Fenech (THE CASE OF THE BLOODY IRIS, THE STRANGE VICE OF MRS. WARDH) stars in this infamous shocker that packs more grisly violence and sexual depravity into each frame than most any other film in the entire giallo genre. There s succulent flesh aplenty as a mysterious killer dressed in black leather and wearing a motorcycle helmet begins butchering beautiful young fashion models with no mercy and one deranged request: STRIP NUDE FOR YOUR KILLER! Nino Castelnuovo (THE UMBRELLAS OF CHERBOURG) and Femi Benussi (HATCHET FOR THE HONEYMOON) co-star in this sleazy 70s classic directed by Andrea Bianchi (BURIAL GROUND, MALABIMBA), now presented in a brand-new High Definition transfer from the original uncut and uncensored camera negative!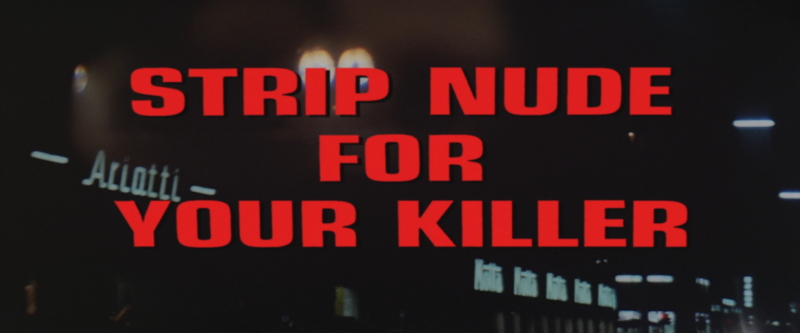 The Film:
A leather-clad killer who hides his identity under a motorcycle helmet goes on a depraved killing spree in this unabashedly… sadistic giallo directed by Andrea Bianchi (Burial Ground) and starring Nino Castelnuovo and Femi Benussi. A fashion model has died while receiving an illegal abortion, and after the abortionist is slain, the black-clad killer begins targeting the deceased model's former co-workers. One by bloody one the models begin to fall prey to the mysterious killer, and all of the crimes have one thing in common - the victims were all forced to strip nude before meeting their grim fate.
***
A 1975 giallo movie that follows in the footsteps of such Dario Argento classics as Deep Red, this one features colourful, baroque set design, and plenty of style, but is hampered by bad acting, a threadbare storyline and lousy dubbing.
Excerpt from Total Sci-fi Online located HERE

Image :    NOTE: The below Blu-ray captures were taken directly from the Blu-ray disc.
Strip Nude For Your Killer looks decent, if not stellar, on Blu-ray from Blue Underground. It appears as many might anticipate - no gloss, modest sharpness but pleasing contrast. It doesn't sport as much grain as we have seen from the distributor.  This is only single-layered but there are instances of depth and no undue noise. There is no damage and I thought it looked okay. This Blu-ray offers a consistent presentation that excels over SD. Hopefully the screen captures will give you an idea.
CLICK EACH BLU-RAY CAPTURE TO SEE ALL IMAGES IN FULL 1920X1080 RESOLUTION
English subtitles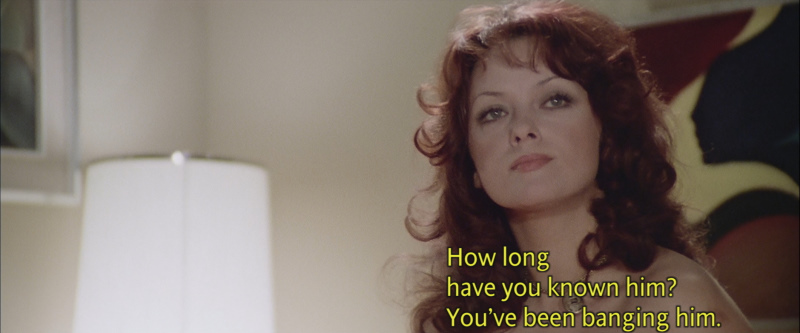 English subtitles for Italian language version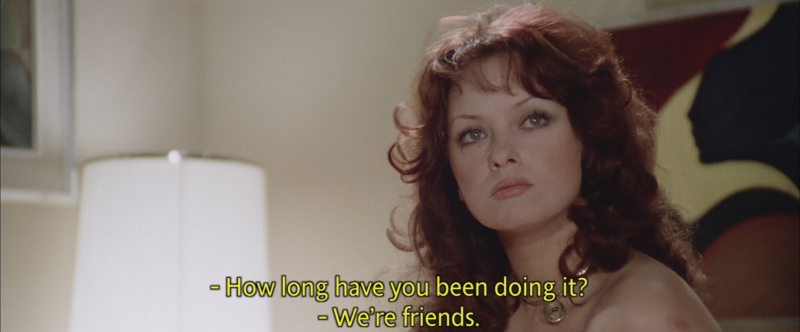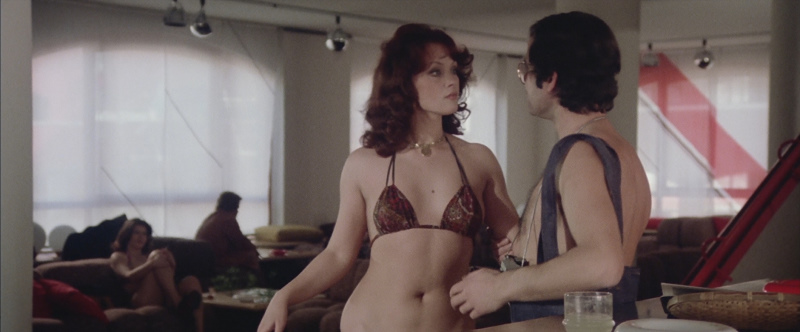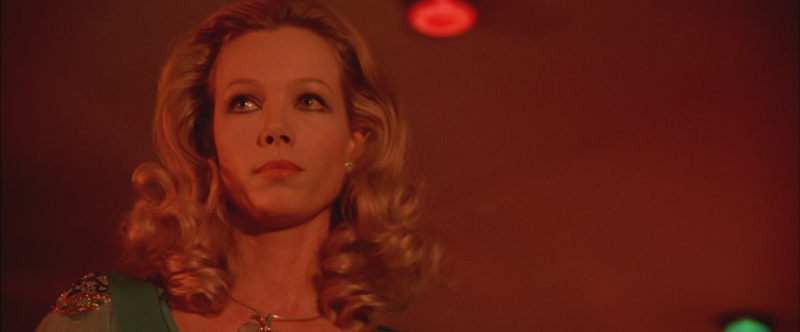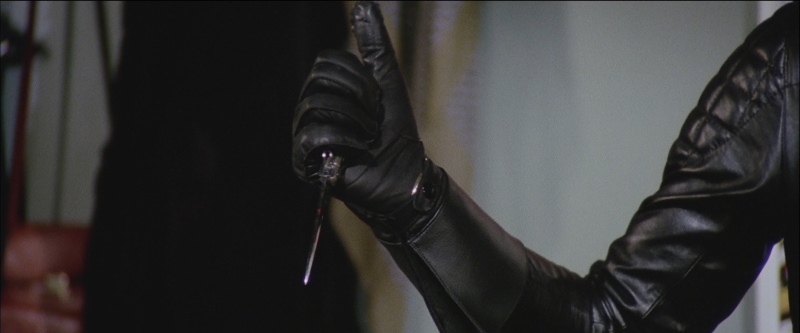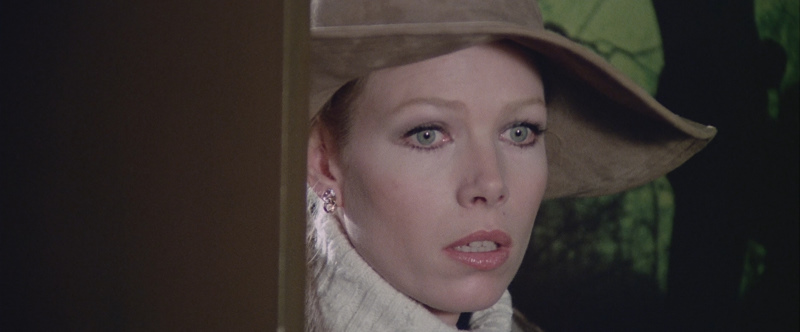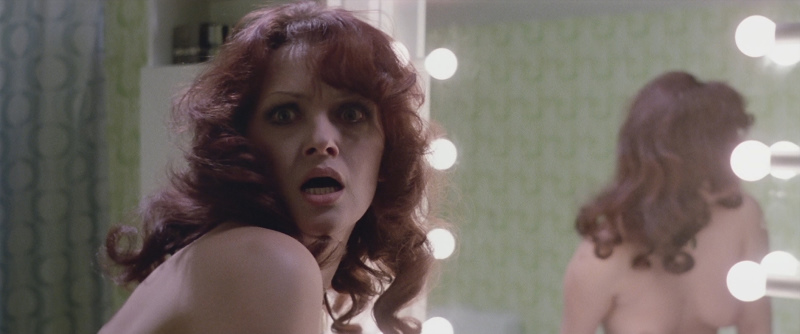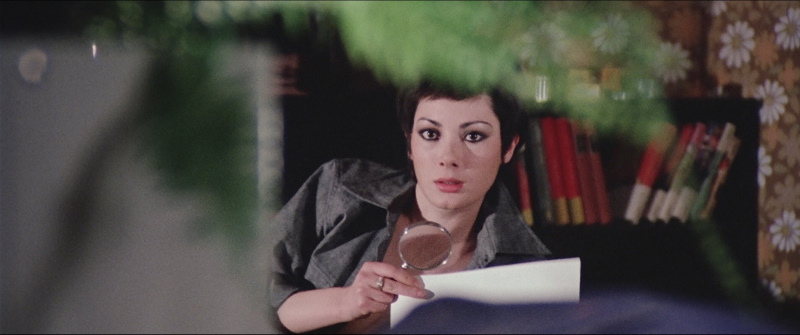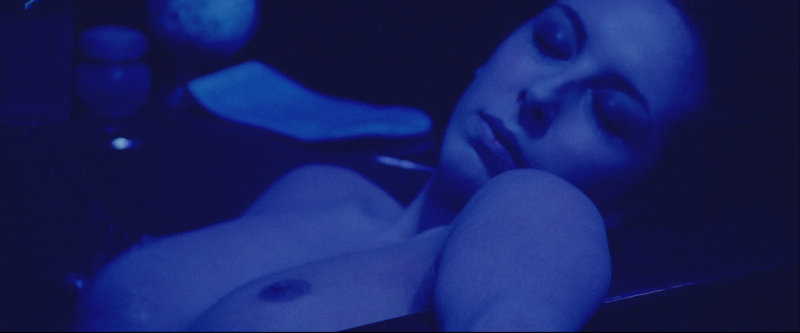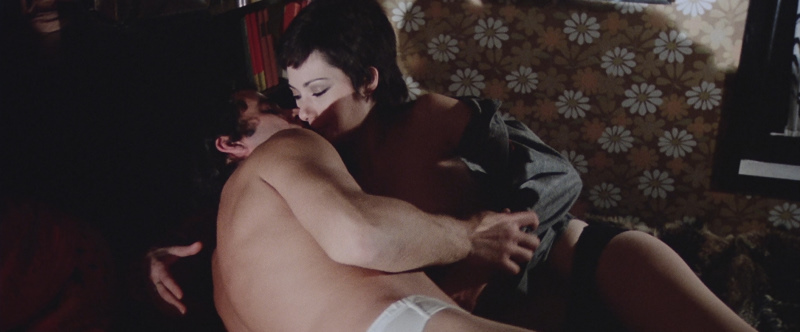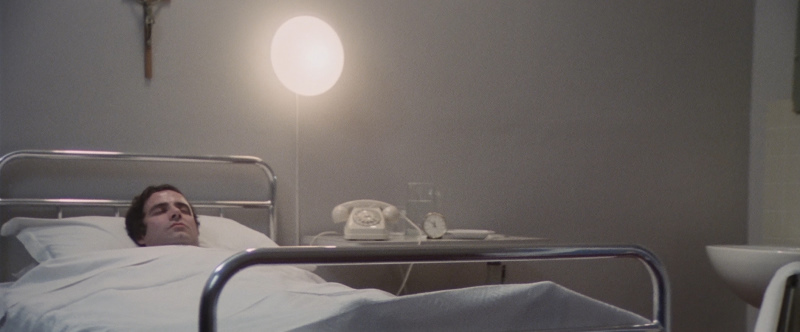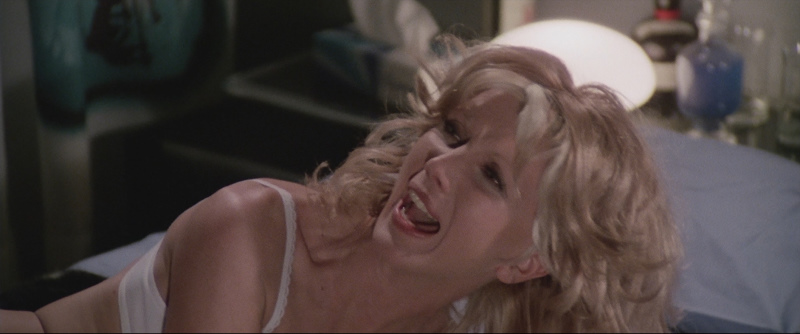 Audio :
Blue Underground offer both the English language and Italian versions via decent DTS-HD Master 2.0 channel stereo tracks at 1564 kbps. It sounds okay with the expected sync-issues of post-dubbing present. I actually find that kind of charismatic. There is some depth that punches out of the front speakers and it comes with enough force to surprise. There are optional, bright yellow, subtitles (see samples above) in French, Spanish, English and English for the Italian version.  My Momitsu has identified it as being a region FREE disc playable on Blu-ray machines worldwide.

Extras :
Supplements include a 12-minute 'Strip Nude for Your Giallo' which includes interviews with actress Solvi Stubing and co-writer Massimo Felisatti. It is in 480i. There is also both International and Italian trailers in HD and a poster and stills gallery.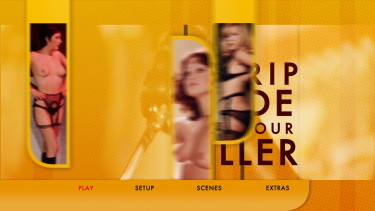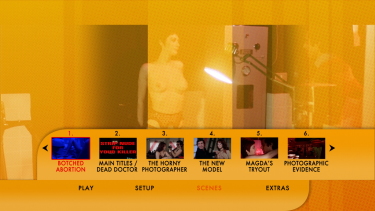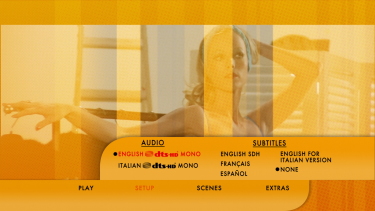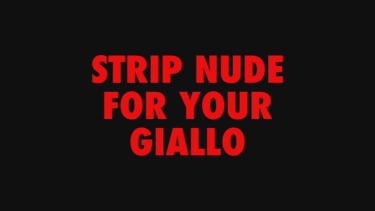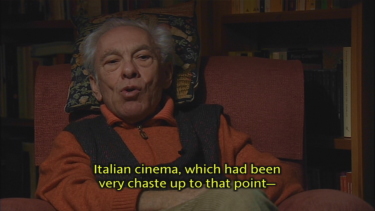 BOTTOM LINE:
Strip Nude For Your Killer has the salacious title but I wouldn't say it was much of a Giallo. Of course, the cheesiness is part of the appeal. There is, predictably, plenty of nudity - but most not highly erotic. This is no Argento - but there are things to appreciate - just not that many. Blue Underground put out great Blu-ray products from a technical standpoint but this might be in their lower half. Edwige Fenech might be the best thing Strip Nude For Your Killer has to offer - but for some - that may be enough - that and the kitschy cover art. 
Gary Tooze
March 15th, 2012
La pretora (1976)
My Sister in Law / La pretora (1976)
---
In the 1970s it seems that Lucio Fulci really had his finger on the pulse and able to read the mood of the times. As with his giallo earlier in the decade La pretora was perfectly timed to the wave of sex comedies that were being made in Italy. He also here got to direct one of the great stars of this film wave, the beautiful Edwige Fenech.



In La pretora Edwige portrays a conservative and puritanical lady magistrate and her floozy twin sister. This makes for comedy of mistaken identity in the style of farce along with a tale of blackmail and corruption.



As with The Eroticist the movie's humour is used to make some serious points as it calls the establishment on it's corruption and hypocrisy as we meet censors who love pornography in a world where bribes grease the wheels of the judicial machine.



La pretora is a pretty sweet film with a comedy that hits the mark more than it misses. It is also pretty sexy. The film includes a scene where Edwige Fenech is posing for some Snow White themed dwarf sex stills for an adult comic. Priceless.
Valentina… The Virgin Wife (La moglie vergine, aka At Last, at Last) (1975, Italy)